The smart way to think about shelf.
The Kiyo R1 shelving system consists of two products: a cube (R1 Cube) and a cap (R1 Cap). R1 Cube and Cap allow you to set up your home according to the modular principle.
Stool, sideboard and shelf in one.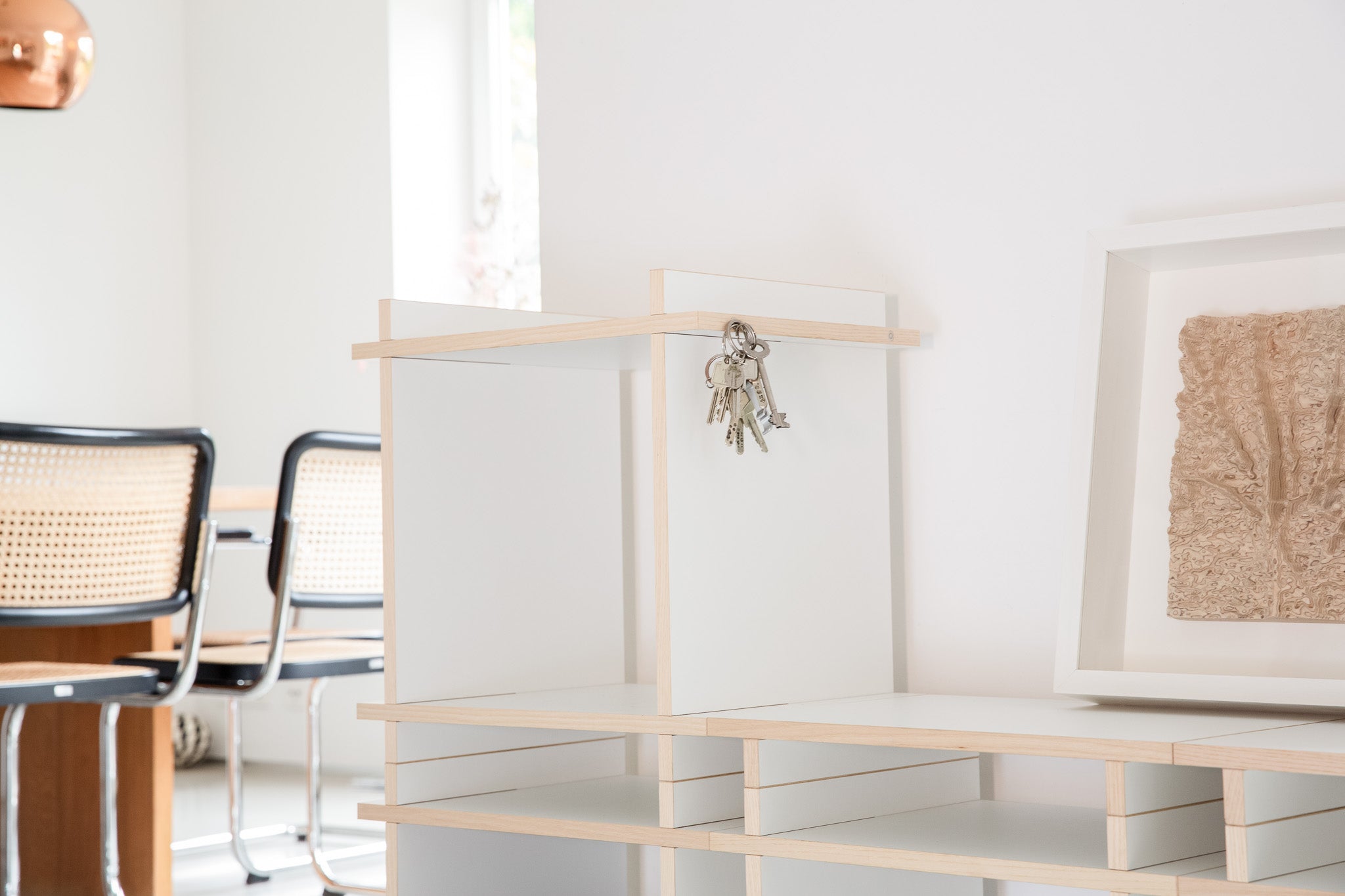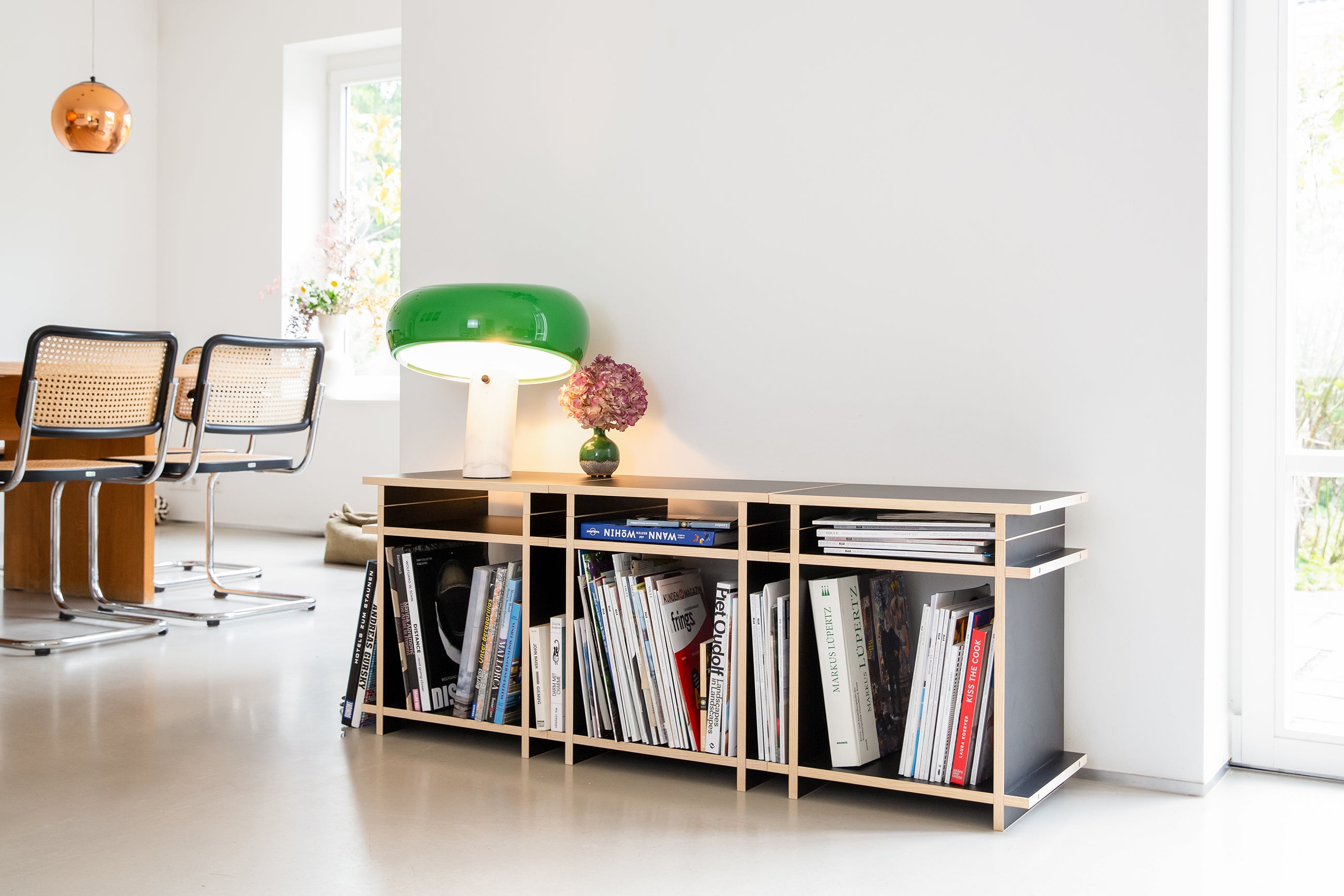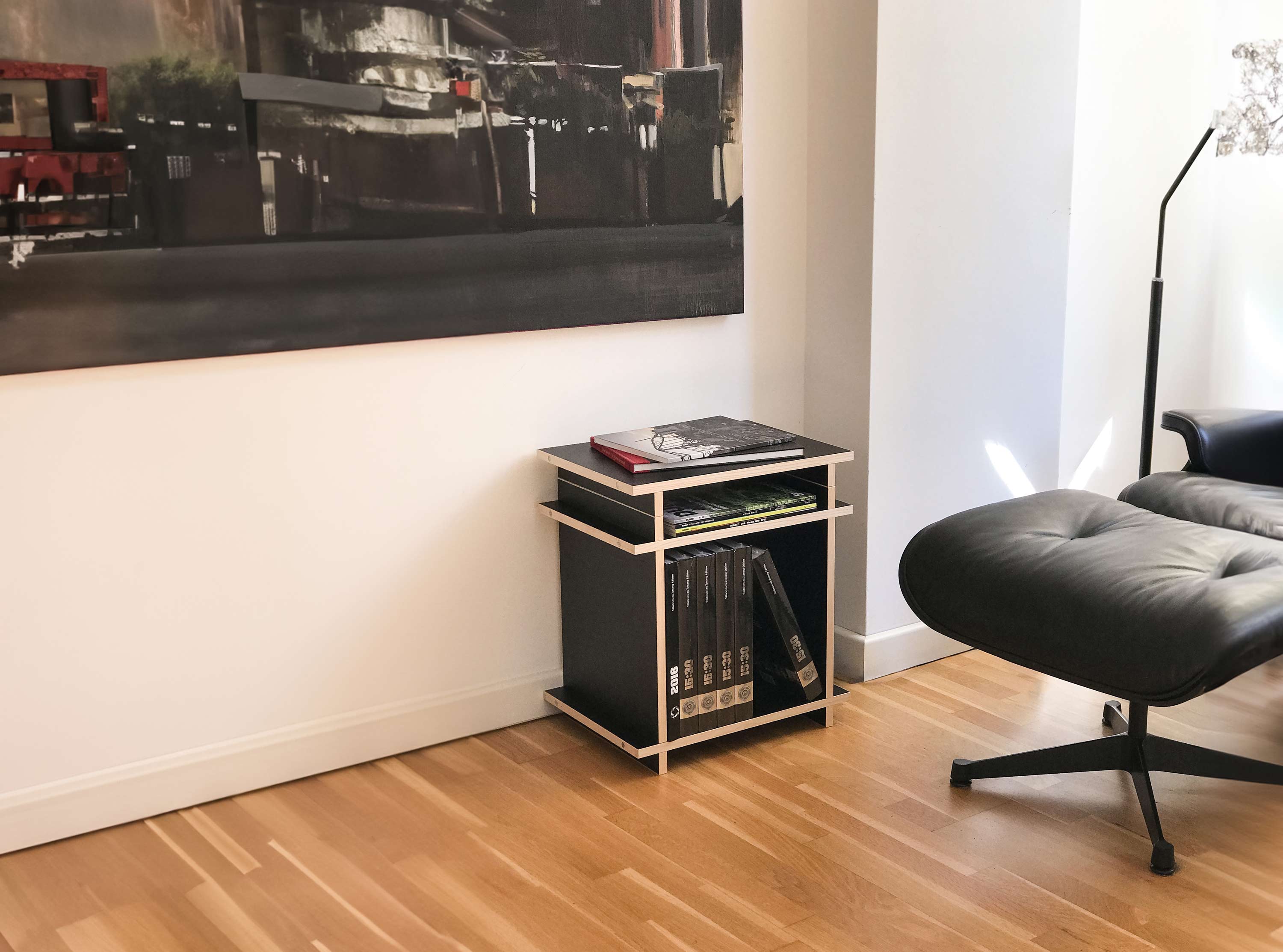 Simply. Custom fit. Built up.
Select cubes and caps

Decide at the beginning many R1 Cubes and R1 Caps you need. Are you looking for inspiration? Just take a look at one of our Kiyo Homestories .

Screwless construction

Your R1 Cubes only have to be plugged in. Thanks to the integrated magnetic connection, the R1 Cubes and Caps can be connected to each other in a matter of seconds.

Not enough?

Your R1 can be expanded both horizontally and vertically. Would you like to turn your sideboard into a bookshelf? No problem.
Shelving system, shelves, shelving systems
Design your space with the R1 modular shelving system from Kiyo. Flexibility, style and quality made in Germany. Discover the diverse design options of our shelving system now.
At home with Selim and Eva
We were allowed to visit the Varol family in their beautiful home in Düsseldorf. You can experience online how the artistic family lives and how our R1 shelf has been integrated into their home.
to the home story
Caro's home story
When looking for a suitable shelf, Caro decided on our R1 and thus created a worthy place for her favorite object. The R1 is an example of how well thought out shelving systems can enhance a space while showing off the objects within.
to the home story
Shelves and their diversity - from bookshelves to room dividers: which shelf suits you?

bookshelf
Are you looking for a shelf to display and store your books, CDs, magazines and photos? A bookcase, whether as a wall shelf, standing shelf or wall shelf, offers style and function in one.

Wall shelf
A wall shelf gives your home a modern touch. Secured to the wall, it can be placed anywhere and highlight personal pictures or selected items - a functional and stylish type of shelf.

Shoe rack
For shoe collectors, a shoe rack is the perfect choice. It displays your sneakers and keeps them organized while giving your shoes and boots room to breathe and dry.

Office shelf
An office shelf keeps your home office tidy. It needs to be sturdy to support the weight of folders and office supplies without sacrificing an attractive design.

Shelf cubes
Shelf cubes are the perfect choice for those who prefer flexibility and creativity in furnishings. They can be arranged next to each other to form a chest of drawers or stacked as a room divider, providing both internal and surface storage space.

Room divider
A room divider shelf is ideal for dividing large rooms or separating studio apartments without losing space. It is accessible from both sides and available in many different versions.

Material-related shelf types
Shelves differ not only in form and function, but also in the material used. For example, there are metal shelves, wooden shelves and glass shelves.

Shelving alternatives

What other storage options are there?
Dressers, sideboards or highboards can be an alternative or addition to your shelf. They often have doors and may have additional design elements such as metal or glass. Display cabinets, fruit or wine crates, and chests can also serve as shelf alternatives.


Furnishing tips for your new shelf – what should it look like?
Create contrast with the color of your wall before placing your shelf. A black shelf looks elegant against bold red or yellow walls, while a white shelf stands out against light blue tones. Think about how many items you want to put on your shelf - less is often more. Try out shelf cubes, they offer a variety of design options. And don't forget to show off your personal treasures!


Questions I should ask before buying a shelf:
In which room should your shelf be?
How much storage space do you need? Which items should go on the shelf?
Could an alternative to shelving better meet your needs?
Do you prefer orderly shapes, or can you be a little more creative?
Think about all these aspects before choosing your perfect shelf!